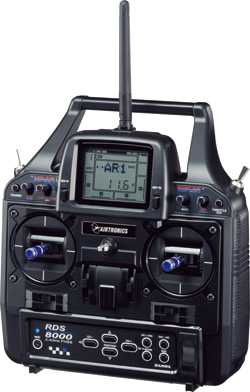 8-Channel 2.4GHz FHSS-1 Aircraft Radio
The RDS8000 is a full-featured 8-channel system, packed with capabilities for all types of aircraft. A top-quality digital radio, the RDS8000 is noted for its ease of operation and programming. Helicopter, fixed wing aircraft and sailplane pilots will all benefit when using the standard features of the RDS8000.
Whether flying a basic model or one that requires advanced features, the RDS8000 can do it all! One of the key features of the RDS8000 is the ability to use both basic or advanced program menu.
The RDS8000 makes programming easier by allowing you to turn off any programming screen not required. Because it uses Airtronics' FHSS 2.4GHz communications technology you never have to worry about an 'open frequency'. Fly any time with confidence.
General System Features:
• 8-Channel 2.4GHz FHSS-1 Digital Proportional Computer Radio Control System
• Includes 92824 8-Channel 2.4GHz FHSS-1 Receiver
• Left and Right Control Sticks Spring Loaded (No Ratchets)
• Model Type Selection
• 10 Model Memory
• Model Naming (3 Characters)
• Data Reset and Data Copy
• Stop Watch
• Digital Trims
• Servo Reversing
• End Point Adjustment
• Servo Sub-Trim
• 2 Compensation Mixers
• LCD with Voltage Indicator and Low Voltage Alarm
• Integral System Timer
• Click Audio Tones
• Dual Rate Alarm
• Adjustable Stick Tension and Length
• Switch Reversing
• 8 Cell Ni-Cd Transmitter Battery
• Trainer System
Aircraft-Specific Programming Features:
• Exponential
• Dual Rate (Elevator and Aileron)
• Digital Trim Memory
• Trim Authority (STEP) for Digital Trim
• Flaperon and Spoileron Mixing
• Elevon (Delta) Mixing
• V-Tail Mixing
• Throttle Cut
• Dual Elevator Mixing
• Aileron Mixing
• Landing Differential
• Crow Mixing
• Flap to Elevator Mixing, Throttle to Elevator Mixing and Rudder to Aileron Mixing
• Aileron to Rudder Mixing, Rudder to Elevator Mixing and Elevator to Flap Mixing
Helicopter-Specific Programming Features:
• Exponential
• Dual Rate (Elevator, Aileron and Rudder)
• Four Flight Modes
• 5-Point Throttle Curve (All Flight Modes)
• 5-Point Pitch Curve (All Flight Modes)
• 3-Point Revo Mixing (All Flight Modes)
• Remote Gyro Control
• Throttle Cut
• Swash Plate Type Selection
General System Features:
• 8-Channel 2.4GHz FHSS-1 Digital Proportional Computer Radio Control System
• Includes 92824 8-Channel 2.4GHz FHSS-1 Receiver
• Left and Right Control Sticks Spring Loaded (No Ratchets)
• Model Type Selection
• 10 Model Memory
• Model Naming (3 Characters)
• Data Reset and Data Copy
• Stop Watch
• Digital Trims
• Servo Reversing
• End Point Adjustment
• Servo Sub-Trim
• 2 Compensation Mixers
• LCD with Voltage Indicator and Low Voltage Alarm
• Integral System Timer
• Click Audio Tones
• Dual Rate Alarm
• Adjustable Stick Tension and Length
• Switch Reversing
• 8 Cell Ni-Cd Transmitter Battery
• Trainer System
Aircraft-Specific Programming Features:
• Exponential
• Dual Rate (Elevator and Aileron)
• Digital Trim Memory
• Trim Authority (STEP) for Digital Trim
• Flaperon and Spoileron Mixing
• Elevon (Delta) Mixing
• V-Tail Mixing
• Throttle Cut
• Dual Elevator Mixing
• Aileron Mixing
• Landing Differential
• Crow Mixing
• Flap to Elevator Mixing, Throttle to Elevator Mixing and Rudder to Aileron Mixing
• Aileron to Rudder Mixing, Rudder to Elevator Mixing and Elevator to Flap Mixing
Helicopter-Specific Programming Features:
• Exponential
• Dual Rate (Elevator, Aileron and Rudder)
• Four Flight Modes
• 5-Point Throttle Curve (All Flight Modes)
• 5-Point Pitch Curve (All Flight Modes)
• 3-Point Revo Mixing (All Flight Modes)
• Remote Gyro Control
• Throttle Cut
• Swash Plate Type Selection