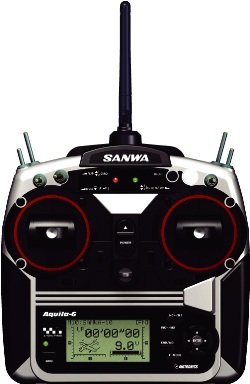 6-Channel 2.4GHz FHSS-1 Aircraft Radio System
Fly the Aquila-6 2.4G FHSS-1 Digital Proportional radio control system and you'll have a transmitter ready for just about every 6-channel aircraft and helicopter available today. From micro electric aircraft to scale aerobatic aircraft and from mini fixed-pitched helicopters to advanced CCPM 3D electric helicopters, the Aquila-6 can handle it - and do it glitch-free!
The Sanwa Aquila-6 is the perfect all round flight transmitter. It is easy to use and therefore ideally suited for beginners and advanced pilots. The new Sanwa flight transmitter offers multiple functions for airplanes as well as for helicopters. It features 6 channels and can be used for a wide range of models, from trainer to scale models. 10 model memories can be activated quickly and uncomplicatedly.

In addition the Sanwa Aquila-6 convinces with Direct Model Select, different flight modes in airplane and helicopter programs, general trim, trim for each flight mode, adjustable mixes for independent flight modes, and advanced swash plate programming.
The Sanwa Aquila-6 will enthuse you!
General System Features:
• 6-Channel 2.4G FHSS-1 Digital Proportional Computer Radio Control System for Aircraft and Helicopters
• Includes Full-Range RX71E 7-Channel 2.4G FHSS-1 Receiver
• Uses 6 "AA" Batteries (Included) for Lighter Weight and Better Feel
• 10-Model Memory
• Direct Model Select (Models 1-3)
• Easy-to-Read Multi-Function LCD with Digital Voltage Display
• User-Selectable Model Type Templates
• Digital Trims
• Trainer System Compatible with all SD Series Transmitters• Model Naming
• Model Select
• Audible Low-Voltage Alarm
• Low-Power Range-Check Mode
• Programmable Fail Safe
• User-Selectable Flight Modes
• Stop Watch and Count-Up Timers
• Data Copy and Data Reset

Aircraft-Specific Programming Features:
• Servo Monitor
• 3 Flight Modes (FN/F1/F2)
• Aileron, Elevator, and Rudder Dual Rate
• Aileron, Elevator, and Rudder Exponential
• Servo Reversing
• Servo Centering Sub-Trim
• End-Point Adjustment
• Throttle Cut
• 5-Point Programmable Throttle Curve
• Aileron Differential
• Flaperon Mixing
• Flap-to-Elevator Mixing
• Dual Elevator Mixing with End-Point Adjustment
• Ailvator Mixing
• V-Tail Mixing with End-Point Adjustment
• Delta (Elevon) Mixing with End-Point Adjustment
• 2 Programmable Compensation Mixers
• Common or Flight Mode-Specific Trim with Throttle-Trim Lock
Helicopter-Specific Programming Features:
• Servo Monitor
• 3 Flight Modes (FN/F1/F2)
• 9 Pre-programmed Swashplate Templates
• Aileron, Elevator, and Rudder Dual Rate
• Aileron, Elevator, and Rudder Exponential
• Servo Reversing
• Servo Centering Sub-Trim
• Advanced Swashplate Adjustment
• CCPM End-Point Adjustment
• End-Point Adjustment
• Throttle Cut
• 5-Point Programmable Throttle Curve
• Throttle Hold
• 5-Point Programmable Pitch Curve
• Revolution Mixing
• 2 Remote Gyro Gains
• 2 Programmable Compensation Mixers
• Common or Flight Mode-Specific Trim with Throttle-Trim Lock