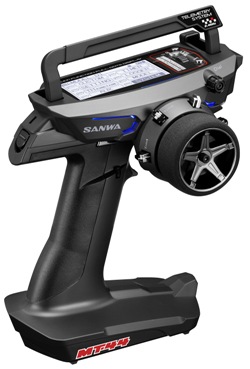 BEYOND MIDDLE CLASS RADIO
CODE 10 Template for MT-44
1. CODE10 S (CODE 10 SET for EP Cars)
AUX1 for ESC (SUPER VORTEX Gen2 PRO, Gen2, STOCK)
AUX2 for PGS Servos (PGS-LH default values)
2. PGS-LH
AUX1 is STEP (MT-44 Default)
AUX2 for PGS-LHII (PGS-LHII default values)
3. PGS-XB
AUX1 is STEP (MT-44 Default)
AUX2 for PGS-XBII (PGS-XBII default values)
4. PGS-XR
AUX1 is STEP (MT-44 Default)
AUX2 for PGS-XRII (PGS-XRII default values)
5. PGS-CL
AUX1 is STEP (MT-44 Default)
AUX2 for PGS-CLII (PGS-CLII default values)
6. PGS-CX
AUX1 is STEP (MT-44 Default)
AUX2 for PGS-CXII (PGS-CXII default values)
7. PGS-LH T-D (PGS LH Type-D Default)
AUX1 is STEP (MT-44 Default)
AUX2 for PGS-LH Type-D (PGS-LH default values)
8. CODE10 E (CODE10 ESC)
AUX1 for ESC (SUPER VORTEX Gen2 PRO, Gen2, STOCK)
AUX2 for STEP (MT-44 Default)
◆HIGH RESOLUTION DISPLAY
The same detailed dot as M12S enables so clear display.
Three kind of telemetry data can be displayed simultaneously because of gray scale display.
◆BEST POSITION FOR STEERING / THROTTLE
Steering/Throttle is arranged in the best position for operation.
Drop Down is used as standard postion.
◆THREE AAA BATTERIES
Three AAA batteries allows to be not only compact but also light.
◆USB CHARGE
When used with optional Li-Po 1 cell battery, weight become lighter and it can be changed from USB input.
■SYSTEM: 2.4GHz FH4T/FH3 ■4CH ■Transmitter: TX-471 ■Receiver: RX-482
[New features]
●Movable Carrying Handle ●Quick Setup Wizard ●Safety Link ●Racing Mode ●Customized Menu ●Micro SD card-compatible ●Telemetry Switch ●Clock ●Circumstance Temperature Display ●CSV Output for LOG data ●CODE 10-compatible (Naming support) ●Simultaneous three telemetry data display ●Three AAA Batteries ●Li-Po 1 cell-compatible (USB change support)
[Other functions]
●Large full dot LCD monitor ●Wight LED back light ●Full adjustable trigger ●Telemetry function ●Built-in antenna ●Multi Menu Selector ●ST/TH Tension Adjuster ●Dual Rate ●End Point Adjuster ●Anti-lock Brake ●Servo Speed ●Offset ●Trim/Sub trim ●Servo Reverse ●Curve (Exponential /Adjustable Rate Control) ●AUX1 (Movement type for 3CH. it's the same as MT-4S function.) ●AUX2 (Movement type for 4CH. it's the same as MT-4S function.) ●Fail safe (power/ battery) ●Timer (lap/ interval/ down) ●Lap ●Logger ●20 model memory (when used with SD card, 250 models is available.) ●Model Name (12 letters) ●Model (Select/ Clear/ Copy) ●Direct Model Select ●Trim Type (Center/ parallel) ●Throttle Type (70:30 / 50:50) ●RF MODE Setting (FH4T/FH3) ●Response Mode Setting (NOR/SHR/SSR)* ●Key Assign(SW/TRIM/DIAL/LEVER)
●AUX TYPE SETTING
・CODE AUX (w/ Naming function)
・STEP AUX (Step 1 - 100)
・POINT AUX (2 - 6 point)
・4WS MIXING (Front/Rear/Normal(coordinate phase)/Reverse(opposite phase))
・MOA MIXING (FWD/4WD/RWD)
・AUX MIXING (ST MIXING/ TH MIXING)
●Buzzer(scale/volume) ●Transmitter Battery Alarm ●LCD Contrast ●Volume Adjustment ●Mechanical Rudder Angle ●Small Grip Pad
●Compatible Receivers:
*Telemetry-compatible(RX-482, RX-472, RX-47T, RX-462, RX-461)
*Non-Telemetry-compatible(RX-481, RX-481WP, RX-471 Dual ID, RX-471W, RX-471, RX-451R, RX-451, RX-381, RX-380)

[SSL(SANWA Synchronized Link) Sysytem]
SANWA NEW SSL SYSTEM
●When used with compatible RX-472, RX-482, Super Vortex Series, SV-Plus Series, the setting of ESC etc. by Transmitter is available through SSL functions while driving.
●Since the setting can be done without the stop of car, the detailed adjustment in accordance with Race conditions
is available without interruption of Intervals and the change of machine conditions.
[Response of Telemetry System]
●It is often said that telemetry system reduce response speed. However, SANWA Original Data Processing and Algorithm Design makes Telemetry possible without response speed reduction.
Our Excellent Telemetry System has no response speed reduction.
●With our telemetry system, the precious race data will help the next race setting and driving.
[Response Mode]
●Please do not use Analog Servo for SHR mode or SSR mode.
If analog servo is used for SHR mode or SSR mode, the servo will be broken and will not work.
Digital servo (SRG series, Digital ERG series, SDX series) can be used both for NOR mode and SHR mode.
●SSR mode can be used only by SRG series servo.
●In SHR or SSR mode, BL-FORCE, BL-SPORT, F3300, SBL-02 and SBL-03CR do not work.
Please use NOR mode for the above ESC.
●About Version Update Program
【How to update firmware】
1 Please download the version update program from the below link;
Version Up Program ver.1.01.18(zip)
Decompress the file.
2 Insert micro SD card into your PC.
3 Make the new folder named "MT-44" in the root of micro SD card.
4 Make the new folder named "update" in the above "MT-44" folder.
5 Copy and Paste the decompressed file "MT-44.prg" into the above "update" folder.
6 Remove micro SD card from your PC and insert it into MT-44 with MT-44 off.
7 Power on MT-44. And update the software as the following process.
SYSTEM > FIRMWARE > FIRMWARE [UPDATE]
In the firmware menu, both the current version and new version will be displayed.
*After updating the firmware, you cannot go back to the old firmware.