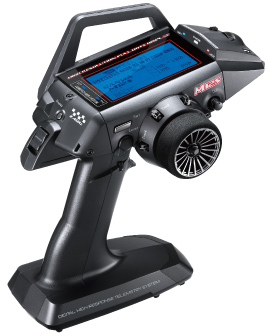 FURTHER EVOLUTION!!!
THE ADVANCE IN THE WORLD FASTEST RESPONSE
◆ADVANCE IN THE WORLD HIGHEST RESPONSE TIME
M12S has achieved 30% Higher Response than M12 (the previous model fastest in the world.)
Not only high response but also excellent linear drive feeling by high resolution
increase the driving stability in the final match.
Having no equal to other model.
◆FULL ADJUSTABLE TRIGGER
Adjustable lever of brake side by the replacement of throttle trigger lever
(+1 and +2) enables detailed adjustments to your finger size and fingerhold.
◆EXPANDED OFFSET BRACKET
Swing Offset expand your driving position.
Please refer to the below for the other functions;
[New Features]
●Telemetry Mixing ●Template function●Enhanced Vibrator functions●Additional back light color●Mode change●Throttle slow function●Li-Fe Battery●Earphone Jack●Response mode LED indicator●Ackerman ST●Racing Mode●Timer/Alam●CODE10/Telemetry Assignment●CODE AUX Naming
[Other Features]
●FSTN Lager Full-dot LCD (128x256)●Switchable driving position(Left/Right)●Menu Selection●Built-in Antenna●ST, TH spring adjustment●Feeling●Logger●PC Link●Monitoring function●Racing Mode●Car-type selection●CODE AUX●Cross Movement Function System●Model Memory(50 models)●Model Name(14 letters)●Model(Select/Copy/Clear/Sort)●RF Mode Setting(FH4T/FH3)●Response Mode Setting(NOR/SHR/SSR)●Bind●Servo Monitor●Key Assign(SW/TRIM/DIAL/LEVER)●Buzzer(Scale/Volume changeable)●Vibration●LCD Contrast●AUX type setting(AUX/AUX1/AUX2)●Point AUX●MOA AUX●4WS AUX●Trim Type(Center/Parallel)●Battery Alarm●Log(REC/RPM/VOLT/TEMP1/TEMP2/ST Point/TH Point/RX Mode)●Boot Menu●User Name(14 letters)●Information●EPA●Trim/Subtrim●Servo reverse●Fail safe(Radio Wave/Battery)●Timer(Rap/Interval 1/Interval 2)●Dual Rate(ST/TH/BR)●Curve(EXP/ARC/CRV)●Point Curve●Speed●Anti-lock brake●Brake Mixing●Throttle Hold●Ackerman ST●Compensation Mixing(C-MIX 1/C-MIX 2)●Safety Link●Language●Custom Menu●Direct Model Selection●TH Type●Offset●Channel Set●Calibration(ex-VR): ST, TH, Lever●Mechanical Rudder Angle Adjustment●Compatible Receiver; RX-482, RX-481, RX-472, RX-471 Dual ID, RX-471W, RX-471, RX-462, RX-461, RX-451R, RX-451, RX-381, RX-380
[Accessories]
●Grip Pad(Large/Small)●Large ST Wheel●ST Offset Bracket(Angle Adjustable)●ST Slant Bracket(for Right/Left)
●Trigger Angle Spacer●Strap Hook●ST Spring
[SSL(SANWA Synchronized Link) Sysytem]
SANWA NEW SSL SYSTEM
●When used with compatible RX-472, RX-482, Super Vortex Series, SV-Plus Series, the setting of ESC etc. by Transmitter is available through SSL functions while driving.
●Since the setting can be done without the stop of car, the detailed adjustment in accordance with Race conditions
is available without interruption of Intervals and the change of machine conditions.
[Response of Telemetry System]
●It is often said that telemetry system reduce response speed. However, SANWA Original Data Processing and Algorithm Design makes Telemetry possible without response speed reduction.
Our Excellent Telemetry System has no response speed reduction.
●With our telemetry system, the precious race data will help the next race setting and driving.
[Response Mode]
●Please do not use Analog Servo for SHR mode or SSR mode.
If analog servo is used for SHR mode or SSR mode, the servo will be broken and will not work.
Digital servo (SRG series, Digital ERG series, SDX series) can be used both for NOR mode and SHR mode.
●SSR mode can be used only by SRG series servo.
●In SHR or SSR mode, BL-FORCE, BL-SPORT, F3300, SBL-02 and SBL-03CR do not work.
Please use NOR mode for the above ESC.
[System Programming]
●・PC-LINK MANAGER3 for M12S Application Manual(PDF)
●・PC-LINK MANAGER3 for M12S Application Software(zip)
*Only for M12S
Please use PC-LINK MANAGER2 for M12/EXZES Z
●・Programming Version Upgrade for M12S(Standard)・・・・・・V301205(zip)
●・Programming Version Upgrade for M12S(Germany)・・・・V301306(zip)
●・Programming Version Upgrade for M12S(Spanish)・・・V301406(zip)
●・Programming Version Upgrade for M12S(Japanese)・・・・・V301506(zip)
※The above upgrade is only for M12S.
M12 or Exzes Z cannot be upgraded.
[M12S TEMPLATE]
●・TEMP01_Super Vortex Zero(zip)
This is factory-programmed standard template. Please download here if you delete it.
●・TEMP02_Super Vortex Zero TypeD(zip)
This is factory-programmed standard template. Please download here if you delete it.
●・TEMP03_SGS-01C(CODE AUX2)(zip)
●・TEMP04_SGS-01D(CODE AUX2)(zip)
●・TEMP05_2R-MODE Quick ⇔ Mild(zip)