RX-451R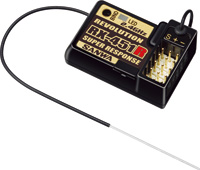 ●2.4GHz FHSS3 Spread spectrum system 4ch
●Sanwa Super Response (SSR) support

| | | | |
| --- | --- | --- | --- |
| Frequency | 2.4GHz FHSS3 | Channel | 4ch |
| Nominal Input Voltage | 4.8~7.4V | Dimensions | 36.5x24.0x14.5mm |
| Weight | 9.0g | Compatible radio | M11X, EXZES X, MT-4,MX-3X,GEMINI-X |
Notice

This only occurs on FH3 mode and not on FH4T mode.
In case of using M11X with RX-451R, the typical servos (like analog servos) and the ESC are not capable of using "SSR" and "SHR" mode. Also "NOR" mode will not be capable to use, if your receiver shows above symptoms.

Notice
Dimensions on product specification only shows the size of receiver itself and it excludes length of the antenna and crystal projection.
To maintain the reception of device, please do not cut the antenna. For additional information, please read official manual for each product.
Notification about RX-451R using with FH3 mode.
Please be noted that due to the unique specification, some transmitters show below symptoms using FH3 mode with RX-451R.
(Indication On Display) (Actual Motion)
NOR ⇒ SHR
SHR ⇒ SSR