Steering Angle (MT-44 and M17)
Thank you for visiting our website.
Today, topics are angle adjustment.
As you know, the driving style and tendency are dependent on each driver.
For example. a driver is good at driving at right cornering but not good at driving at left cornering.
The tendency might be coming from the transmitter operation.
Generally, the most people are not same balance at right and left.
Also, hand rotation might be different in each person.
If you palm down and turn palm up, only right rotation can palm up.
How about left rotation? Probably not.
This is general human anatomy, but this indicates that most of drivers are good at right operation than left operation.
Many drivers trained and fix the problem for long time driving.
But we could offer to use transmitter setting for you.
If you used steering angle adjustment on transmitter, it is quick solution.
You have two angle spacers (2 pcs screws) in wheel transmitter accessories (MT-44 and M17) for using angle spacer.
If you installed the screws to steering angle holder, it can be changed steering angle for both left and right side.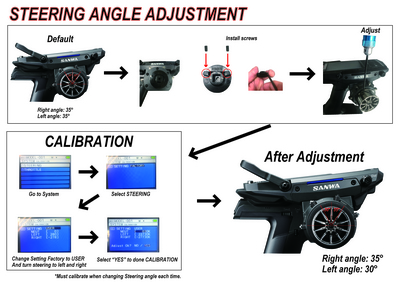 *Click to large picture
Install 2 screws to steering adjuster.

Arrange steering angle to tighten the screw.

Calibrate steering.
*Must calibrate when changing steering angle each time.
*MT-44 and M17 can be changed steering angle.
Update: 201030